About Us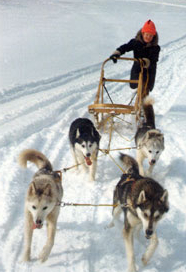 Stu with his first dog team
at the age of 8.
Growing up in Ely, MN Stu McEntyre has become well acquainted with the sport of dog sledding. In 1971, at the age of 8, Stu had his own dog team. In due time, he was racing and running Crosscountry, guiding sleds, and dogs throughout Alaska and in the far northern reaches of Canada.
Now along with wife Jeanne and children Shelby and Spencer, we are running White Wolf Dog Sled Trips together. "We like being ambassadors to the sport of running sled dogs and introducing people of all ages to the wilderness of northern Minnesota-from atop the runners of one of our dog sleds."
We always strive to put people first, that's why we give personal attention to each guest. Your trip is your unique opportunity to experience a winter adventure you will always look back on. We would like the opportunity to help you make a memory to last a lifetime as you enjoy a trip with our trained sled dogs.
So come join us one wintry day...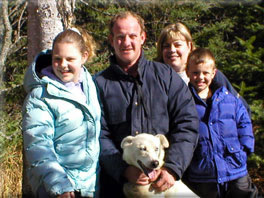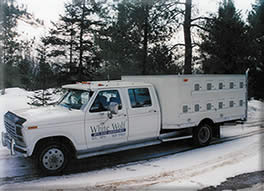 Now that you've learned a little about us, why not learn about our dogs, visit the About our Dogs section to learn what makes our sled dogs some of the best racing dogs there are!